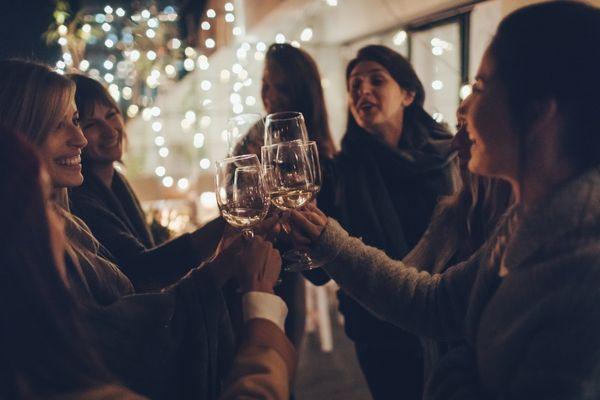 The other day on Facebook, I saw a post relating to the sacrifices that come with motherhood. It detailed various things moms no longer have time for. 
Some examples included: 
"It's not my time to travel."
"It's not my time to go out with friends."
And, "It's not my time to watch my TV shows."
The list goes on. And if you're a mom, I'm sure you could fill a notebook with activities, hobbies, or even dreams that have been set on the back burner since becoming a parent. 
Initially, I liked the post. As a mother of an almost two-year-old, it made sense to me at the time, especially thinking of those early months.
And we all know parenthood comes with many sacrifices. Loving sacrifices that we wouldn't change.
But as I continued to think about that post a little more, it made me sad.
Why Can't We Do Those Things?
Why, as a mom, is it the expectation that the second we bring a child into this world, our interests, hobbies, relationships, and everything else we once enjoyed are put on pause or even stopped completely? 
Of course, raising my daughter is and will always be my number one priority and the most joyful part of my life. 
And yes, I'm fully aware that there are only 24 hours of the day, and I should probably sleep for at least seven of them. But just because I'm responsible for a tiny human doesn't mean that I can't make time for 'me' things. Things that make me feel good. Things that require serious effort and planning. Things that benefit not only me but my daughter, too. 
Hear me out as I explain because I didn't always think or feel this way.  
I do realize it's not my time to do absolutely everything that I want.
And that's okay.
It is my time, however, to do what I can to live a lifestyle that brings peace and happiness to me as I fulfill my roles as mother, wife, daughter, friend, and employee.
Here are some things I am taking the time to do to practice self-care.
It Is My Time
It is my time to take care of myself.
Monthly visits with my therapist, trips to the gym, a deep tissue massage now and again for my achy-breaky back, and a few warm baths with Epsom salt a month. Those examples come to mind when I think of self-care, but the concept holds true for any form of self-care.
I can't take care of others around me without fully taking care of myself. Like the air mask in the airplane, it can be a complex concept to implement, especially for the caretakers of the world, but it's important!  
It is my time to invest in my personal development and chase my goals.
While I wish I had 40 hours a week to spend with my daughter and 40 outside the home to pursue my passions, that's not how life works. Instead, I've focused on what I can control — being present in my environment. 
I want to teach my daughter the benefits of hard work and determination. To show her it's okay to try things that terrify you and fail miserably. That making meaningful connections is essential.
And I want her to see that you can find fluctuating balance in all of life's priorities. Yes, fluctuating, because nothing is ever really perfectly balanced. 
Working full-time, volunteering, and exploring new opportunities to grow personally and professionally make me feel like I'm leading by example for my daughter, while also filling my cup. 
It is my time to connect with those outside my immediate family unit.
Before my husband and daughter came along, my friends and family were the people closest to me. While they can't be my number one priority, they're still very important to me. As are the new relationships I've cultivated along the way. 
Happy hours with colleagues, girl's day, or quick trips with family are necessary to maintain and grow these relationships.
It is my time to invest in my relationship with my spouse.
Time flies and I know it'll just be my husband and me again one day. And when that time comes, I don't want to sit across from him wondering how we function without our children.
We're a team, and our entire family suffers if we're not on the same page. Investing our time in date nights, adult-only trips, or simply time spent together after our daughter goes to bed is essential for us to keep our relationship strong.
It is my time to grow deeper in my relationship with Christ.
As the years have come and gone, I've seen the benefits of deepening my faith.
Looking back, faith was a routine growing up. We went to church because that's what we did. I still believed in God, but it's different now. I've taken the time to trust and know God more.
And that wouldn't have happened without the foundation my parents built. 
Now as a parent myself, it's crucially important for me to set an example for my daughter. That our faith is important and that there's hope even in the hardest circumstances. 
Taking time away from her to grow my faith, in addition to including her in my relationship with God is setting the foundation for her (even if she doesn't understand it yet). 
Trusting Those Around You
Taking time to do all these things means someone else is spending time with my daughter. Fortunately, it's usually my husband, parents, daycare, or a babysitter that we know and trust. I'm fortunate to have the help. 
And I'll admit it hasn't always been easy to trust that these loved ones would care for my daughter as well as I could.
But I got there. I saw how important it was for my daughter to trust and love others. To have strong, healthy relationships with others.
Letting Go of the Guilt
All of these things that I make time for didn't always happen. And I'm sure these priorities will shift if we welcome another child or face different circumstances than what we're accustomed to now. And that's okay. 
But it's not okay to feel guilty about doing things for myself.
I genuinely believe that taking time for myself and my interests over the last year has made me the best possible version of myself, in all aspects of my life. 
Is there still guilt? Of course. But I've seen the benefits. And I know my time away from my child is good for both of us.
Time for Self-Care
If you miss old aspects of yourself or wish for more outside motherhood, I challenge you to try something new. Or bring back something from the past that you loved. 
Take the time to invest in yourself. Start small with self-care and take it one day at a time. Know that you will likely feel guilty in the beginning, but remember, it's your time too, mama! You got this!