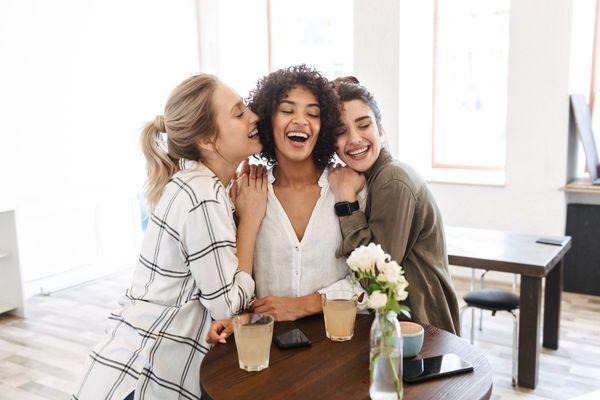 I was at an impromptu happy hour with friends recently discussing all the things.
As per usual girl talk, we socialized about our favorite garbage television shows, the most recent spicy celebrity scandals, and "OMG, you are never going to believe this" stories.
It was a fun event for close friends, where we brought life to a quiet Applebee's and stayed long enought to shut it down.
It was a good night, I reflected while I was sipping on my cheap glass of Chardonnay. And although we lightly touched on mom world, most of the evening didn't involve kids.
Why?
Because most of the women sitting at the table didn't have kids.
While this isn't super uncommon to see, I was surprised to hear a friend whisper afterwards how great it was to be welcomed as a single woman in a different season of her life.
I was a little confused by her statement and asked, "What do you mean?" 
She went on to say that she was recently excluded from a friend group based on the fact that most of the friends were married with kids and she was not — thus making the group feel that she "did not" or "would not" be interested in hanging out with them anymore. 
What?! Who even does that? I LOVE my friends in different seasons of life and here's why:
Reasons Moms Need Friends Who Are Not Moms
1. Different Perspectives
When I connect with my single or childless friends, I gain new perspectives.
Motherhood is often draining and much of that exhaustion for me comes from discussing and living the same episodes over and over. Sometimes we get into a routine just to survive, and in that routine we can lose some of our creativity, energy, and consideration.
Sure, it's great to have a tribe to commiserate, to understand the challenges we face first-hand, but sometimes I need to draw energy and insight from an outside view. 
Some of the best insight I receive is when I ask someone who isn't in my shoes. And I tremendously value that perspective.
2. Autonomy
If you're a mother you know that sometimes looking in the mirror it can be hard to recognize the person you've become.
I often feel a lot less like Alexis and more "Teddy's mom." And it's natural to have our own identities clouded when we think of ourselves just in relation to our children.
While I am incredibly grateful to live my daily life as mom and wife, I appreciate the time when children and marriage aren't at the center of all the conversations.
One day our kids will grow up and it's important to have friends who haven't let me lose "Alexis." And I find my childless or husbandless friends reconnect me to the woman I am outside of motherhood.
3. No Complaining about the Kids Zone
Complaining. It's normal, it's natural, and it helps us decompress from challenges.
But after four boys and almost 13 years of motherhood, I don't always dig the complaining anymore. And most of my friends without kids don't understand my struggles, so I don't bring them up.
And sometimes when I'm with my friends who don't have kids, I find myself breathing a little easier. 
I feel that often in motherhood, we can find ourselves down and venting is a way to know we're are not alone in our motherhood struggles.
But my childless friends hardly want to have these issues at the front and center of a night of conversation. Sure, it slips in and out here and there, but I love that our direction is generally different. And that my mind is about to float away from thoughts of motherhood and into another place.
My childless friends have plenty of challenges to vent about, but taking my mind into that world reminds me that struggles are everywhere — not just in motherhood.
Friendship Matters
Overall, I think we can all agree on the importance of friendship. And I feel grateful for the friendships that I have, whatever stage of life they're in.
What does your circle of friends look like? Do you find yourself easily connecting with friends in other seasons, or do you feel like you can't fit in? Either way, I hope that we all remember that great friendships come in many different forms.