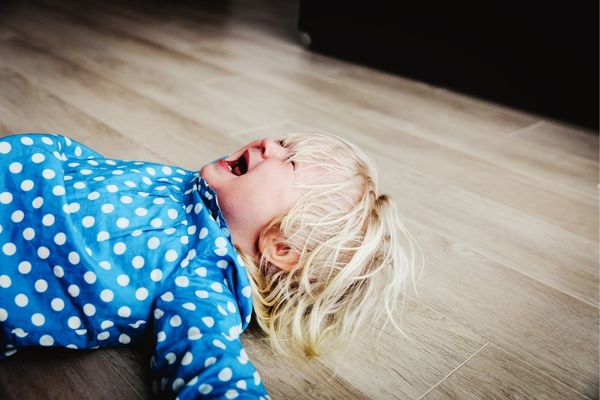 As a mom, you've likely struggled through a milestone, decision, or phase with your child.
Those times can bring up a lot of emotions ranging from sadness and frustration to doubt and sometimes guilt. These difficult times or decisions regarding my child can seem so heavy. And sometimes occupy my mind longer than I'd like to admit.
Usually, I find myself sending up a quick prayer for guidance. Often followed by chatting with the people in my life. Usually I'm simply looking for a listening ear and some reassurance that everything will be ok, at those times when I can't convince myself otherwise.
After expressing some emotions recently, I was met with a response of, "Just you wait."
And that didn't sit well with me.
Let me explain.
A New Phase
My husband and I made the decision to move our daughter into a new daycare. Previously, we were at a home daycare where our daughter was cared for in the most loving way, but the unplanned vacations and lack of planned curriculum led us to make the switch.
I loved the comfort of the home setting and had my reservations about a center. But I knew I would never homeschool our daughter, so getting her exposed to a larger environment was inevitable.
We were fortunate to find a spot at a center near our home that met our requirements, and our daughter's first day was set.
The Emotions
I knew it was going to be an emotional day and tried to prepare myself for drop off as best I could. But nothing truly prepares you for leaving your screaming child at a new, unfamiliar place.
I told myself she'd be okay. I truly knew that she would, but I still felt so guilty and sick to my stomach.
Struggling, I tried to pull myself emotions together, but my eyes were puffy and would well up whenever I thought about my daughter.
As I explained my disheveled look to the first person I encountered that day, I briefly mentioned that I was having a pretty tough morning.
Instead of offering a tiny ounce of reassurance or sympathy, I was told,"You just wait until you drop her off at kindergarten."
Why?
That response stung. Badly.
I felt hurt and disrespected, as if my feelings didn't matter because I would face "harder" times in the future.
I don't even remember how I responded, but I do know the conversation ended awkwardly.
As the moment replayed in my head throughout the day, I couldn't help but wonder why, as parents, it can be so difficult to simply acknowledge where other parents are at.
This wasn't my first time hearing a response like that, and I knew it wasn't going to be my last.
No Need for Comparisons
But still I wondered — why is it a natural instinct for some to immediately compare what someone else is going through to the next "harder" thing.
While I know most people don't mean any harm by these "just you wait" statements, I've grown to really hate them.
Maybe because they lack empathy. Or, maybe because I'm lacking confidence in challenging times and can be extra sensitive. Or, perhaps a combination of both.
And while I don't have a solution (other than to grow some thicker skin and be careful who I share my concerns with), I think this moment serves as a great reminder to be mindful while communicating with moms of younger children facing obstacles that are now in my rearview mirror.
No one's parenting journey is the same. The highs, the lows, and everything in between are all different. Moments that may seem like climbing Mount Everest in a blizzard to some, will seem like a walk in the park with a sleeping baby in the stroller and Starbucks in hand to others.
And that's OK. That's just the way it is.
But what's not okay is making a parent feel inferior to their current situation because you didn't experience that struggle. Or, because you've experienced something more difficult as your children grew.
Instead Try This
Next time you find yourself in a conversation with a parent struggling to see the bright side of a situation, be cautious with your words.
Take the moment as an opportunity to empathize and encourage. Or, maybe just listen.
Most importantly, whatever you do, refrain from using a "just you wait" statement.