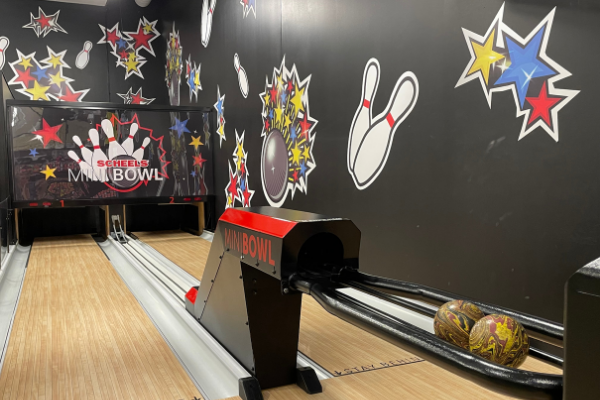 It's the weekend. My family is restless. The weather is, well, unpredictable to say the least. We need to get out of the house before we go stir-crazy.
One of my family's favorite indoor activities is visiting the Fargo SCHEELS!
It's easy. The family fun is affordable. And it appeases everyone. (It's never a tough sell to convince my husband to take a spin through the hunting aisles.)
Aside from the always fun adventure of riding the escalators, here are the top five indoor activities my kids enjoy most at SCHEELS.
TOP 5 Family Fun Spots in SCHEELS
1. Roller Ball
It's all stars and strikes at the Roller Ball lanes. Roller Ball is much like bowling, just on a smaller scale. If you want to see your kiddo get excited (I mean full-on arms in the air, jumping, and spins) then this is the spot.
It makes for a quick little bowling-like adventure without the time commitment of a full bowling game, and trial and error of matching bowling shoes sizes.
You can find rollerball upstairs near the camping section…or just use your ears and follow the sound of the pins dropping.
2. Ferris Wheel
You likely know about this SCHEELS staple. Their Ferris Wheel is 12 cars and 45-feet high!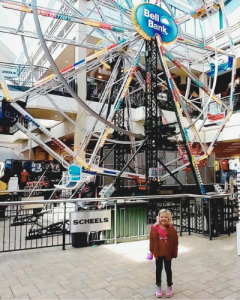 And fun fact, this wheel came all the way from Disneyland in Anaheim, California!
What we love most is getting to feel the exciting jitters as we slowly circle to the top. And of course a wave to mom watching from the upper balcony is a must.

Bonus, the SCHEELS associates manning the ferris wheel are always full of smiles, laughs, and make this ride extra fun.
Located in the center of the store, you can't miss it.
3. Arcade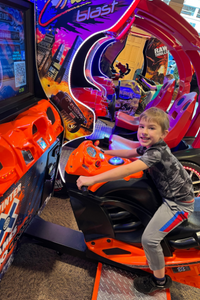 If your kids need a little break from mom and dad's shopping, these interactive games keep the fun going.
And I'll be honest, often I don't even need to put a quarter in the machine. My 5 year old is content just to sit in the driver seat and pretend he's racing.
SCHEELS has games that include Jurassic Park, Big Buck Hunter, and of course lots of racing.
Find the arcade upstairs near the workout equipment on 2nd floor (not far from the toys!).
4. Shooting Gallery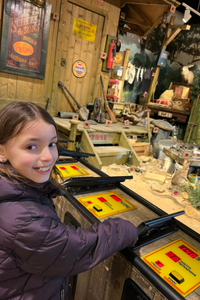 We come to this game for the kids, but really this is where my hubby burns off his energy.
Under the guise of "Let me show you how to do it," my husband (and the kids eventually) get to lean in to their competitive spirit, aiming and hitting targets near and far.
Naturally, you'll find the shooting gallery in the SCHEELS hunting section on the 2nd floor. For some extra fun check out all the mounted animals, including the large grizzly bear!
5. Archery Lane
SCHEELS archery lane is a hidden gem activity you may not know about.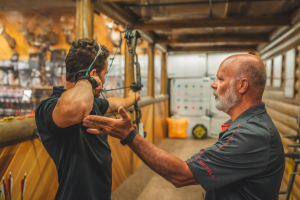 If your kiddos, or you, are interested in archery, Fargo SCHEELS indoor archery lane is how you find the right archery gear for you.
This unique experience in their archery shop lets you try their products before you buy so you can find the perfect match of bow, arrows, and accessories for your frame, strength, and preferences.
Our kiddos didn't get to try this one themselves as they are a bit too young, but they sure loved watching my husband's arrows zip into the target as he tested out gear for his upcoming elk hunting trip.
Ask a SCHEELS archery expert for help when you arrive.
Fun for Everyone
Thank you to SCHEELS for making their store more than just a place to buy things, but a place to enjoy and create an experience and memories for the whole family.
We especially love that all the SCHEELS indoor activities are super affordable for families. (Even though you may leave spending some money if you let your spouse loose in the hunting aisles. And who am I kidding, let me loose in the women's yoga clothing section!)

And on a day when you just need a quick spin outside of the house, SCHEELS is an easy, all appeasing place to burn off some energy and have some fun. Plus, you'll likely always bump into a friend while you're there, too.
To find out more about the Fargo SCHEELS in-store happenings, visit their website, Facebook or Instagram pages!