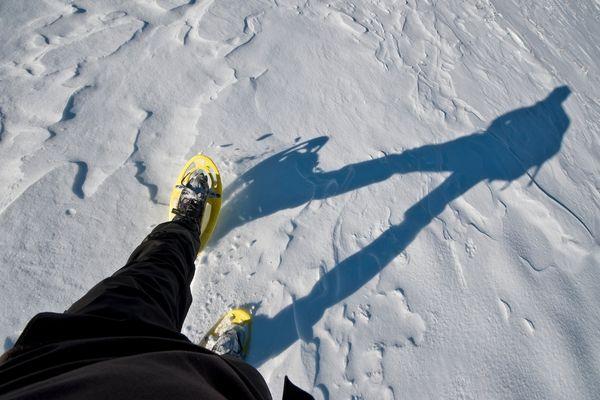 The snow and bitter cold can seem endless in the dead of winter.
So, on nice winter days, I want to be outside enjoying the beauty of winter.
One of the sports I enjoy in the winter is snowshoeing. It's an easy, low-cost way to enjoy the day. And if you don't have snowshoes, there are places that you can rent them. This is a great way to try out snowshoeing!
Snowshoeing in Fargo
I started snowshoeing four years ago because of the heavy drifting we have in this area. There is a large open area behind my house, with hip deep snowbanks in the winter. I would sink deep into each snowdrift while my young toddler would prance across the top. It made keeping up with him interesting!
Once we got snowshoes, I was able to finally keep up.
Snowshoeing is a great sport for the entire family, and it is easy to learn. As soon as I put a pair of snowshoes on my then four-year-old son, he took off walking.
If you haven't done it before, I recommend renting snowshoes; and there are multiple places in the area to rent snowshoes in Fargo! The cost is typically $20 or less per pair to rent locally. And some locations offer family rental packages to make it more affordable.
Snowshoeing Tips
You don't have to stay on a trail if you don't want to. I usually just go behind my house in the open park.
If you do go on trails, make sure you don't step on the ski tracks! The cross-country ski trails are groomed, and we need to respect the cross-country skiers. Some locations will advise you to stay off to the side of the ski tracks on trails, while other groomed ski trails are off limits for snowshoes. It's best to check on the website before you visit the trails.
Snowshoes are sized based on weight. This would be the weight of you and your gear. If you are just walking in your local park, you won't have extra gear to account for.
Where to Go Snowshoeing in Fargo
Each park and state park will have updated information about the trails on their websites.  This will include the rental information, hours, and maps. You will want to check those details before you head out.
My favorite trail is at Edgewood. It is beautiful, has a bathroom (which can be great with little kids), and snowshoe rentals, if needed.
Trail Information
Information about the snowshoeing trails is frequently found with the cross-country ski trail information. Follow these links for more details on Fargo and Moorhead trails:
Places to Rent Snowshoes in Fargo/Moorhead
Looking for a fun day trip option? Take your own gear and head outside of town to a local state park, or find a location below that offers snowshoe rentals!
Outside of F-M Area (Day Trip)
Sheyenne National Grassland (ND)
*Indicates rentals are available. 
Now strap on those snowshoes and enjoy!