Location: 1221 El Cano Drive S, Fargo
This is a pretty, hidden park is nestled along the banks of the Red River, just off University Drive South in Fargo.
What to do:
Hike or bike the trail! It's a shorter distance, so it's not too much to commit to. It can be a great spot for littler legs to explore!
Snap some pictures! The native scenery at Lions Conservancy Park is a great background for photos.
Pack a lunch and have a picnic in the stone amphitheater.
Fish from the shore of the Red River.
And look for tracks in the mud along the creek, deer, turkeys, raccoons, and beavers have been known to leave prints in the park.
Bring your binoculars and go bird watching. Look for woodpeckers, barred owls, and woodpeckers!
Why we love Lions Conservancy Park:
Lions Conservancy Park is a conservation area (a project of the Urban Woods & Prairie Initiative with Audubon Dakota) and full of natural beauty, including tall native grasses and interesting trees.
The shorter trail is full of scenic river views and the terrain is hilly and wooded. Watch for birds and wildlife along the way!
Kids can play and explore in the small stone amphitheater. We like to bring a picnic to enjoy while sitting on the steps!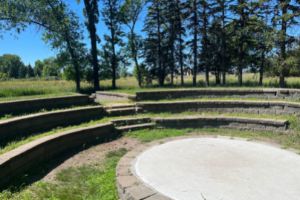 Good to know:
There are no public bathrooms, but there is one porta-potty.
Check the trail map posted for reference at the beginning of the path (I like to take a photo in case I need to reference it later).
The park closes at dusk.
There is no playground at this park, but a nature scavenger hunt would be a great idea to do at this park!
Looking for more parks in Fargo to explore? Check out our post Explore with Kids series!