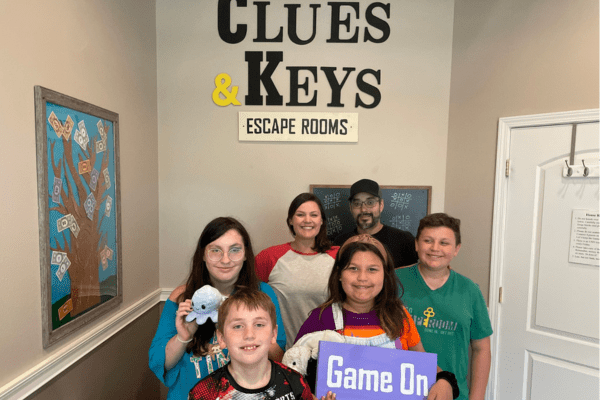 Summer time is here, and despite all the activities and fun things to do, we inevitably hear that common phrase after the summer high has dwindled a bit:
"I'm boooored!"
If you're like me and have "big kids" that aren't quite little but not big enough to be on their own for too long (e.g. ages 8-12), finding fun things to do through the summer can feel daunting. You want to keep them engaged and learning, but the puzzles and Legos just aren't cutting it any more by the end of June.
The solution? Add an escape room adventure from Clues & Keys to your summer bucket list!
Clues & Keys Family Escape Room is a perfect activity for kids ages 8-12. It's something new and different than the same ol' swimming pool, it's super entertaining, and lets them keep their mind engaged during those summer months out of school.
Here are 5 reasons to try an escape room with big kids this summer!
1. They can do it with friends and family members.
Kids love hanging out with their friends, as we all know, and this makes a great activity a group of friends can do together! Or, maybe you have family visiting from out of town and want something different for everyone to do as a group. It's even a great activity for siblings to work together.
2. They get to be creative and solve puzzles and riddles.
We've all heard of the "summer slump," where kids' minds aren't as engaged during the summer and have to play a bit of catch-up in the fall when school resumes. A family escape room is a great way to keep their brains active and use critical thinking and teamwork skills.
3. It's great for rainy days or those just-too-hot days.
Those rainy days are bound to happen. Our best-laid outdoor plans get squashed and we're left wondering what to do with the day. And even North Dakota experiences those super hot summer days when the pool is too packed and it's just too hot for the park. An escape room adventure is a perfect fill-in for these summer days when you need to change things up a bit and stay dry and cool.
4. It beats that summer boredom, and changes up their routine a bit.
So, we all know kids love routine, but sometimes that routine can get a little, well, routine. If you find your kids are antsy with doing the same things every week, plan a visit to Clues & Keys to shake things up!
5. They have fun and learn while doing it!
Watching my kids figure out the clues and think critically to solve each puzzle was so neat to see. They figured out clues that even my husband and I couldn't get! And watching their faces light up with each discovery was truly amazing. Escape rooms are fun, educational, and can even boost their confidence.
More About Clues & Keys Family Escape Rooms
You can find Clues & Keys Family Escape Room in Fargo at 3120 25th St South.
Rooms can hold 6-10 participants and each game lasts one hour.
The rooms are cute and well-decorated with some unique puzzles, and the entire studio is clean, professional, and welcoming.
While rooms may change every so often, the current rooms are "Scottish Knight," "Happy Birthday to Me," and "Family Game Night." All are perfect for any time of year, for any occasion. Watch for a NEW room coming soon!
See a video here on the new Scottish Knight escape room that just opened in May!
PROMO CODE FOR FARGO MOM READERS
Ready to book your escape room adventure this summer? Use the code BIGKIDS to get $4 off each ticket with a group of 4 or more. Use THIS LINK to book and enter the code upon checkout!